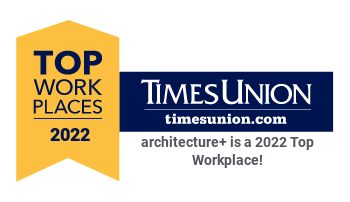 Another Top Workplace Award!
Posted on
We are excited to announce we placed 3rd in the Small Employers Category (less than 100 employees) and received special recognition for our Benefits. The list was announced Sunday, April 10th in the Times Union Newspaper. Why do we consistently rank in the Top 3?
We work together for each other and our clients.
"We recognize one of the reasons people like working here is because of the creative, kind, fun, and dedicated group of people that can only be described as a family. People's hearts are in their work, in their success for each other, and the firm," said Jennifer Snyder, Associate and Director of Administration.
Our staff pulled together over the last two years to work through the coronavirus pandemic. "Each of us found ways to navigate the new challenges and obstacles we were facing. We were adaptive and resourceful. As problem solvers by nature, we used our experience to collaborate in ways we hadn't before. Our teams stayed connected, we stayed connected," Snyder said.
In comments on the Top Workplaces survey, our staff praised architecture+ as a wonderful place to be employed. Here's what our employees are saying:
"I have a high degree of responsibility."
"My relationships with colleagues and clients are meaningful."
"a+ is very flexible relative to personal schedules, making for excellent work-life balance."
"I get to travel."
"I am well compensated."
"The work we do is meaningful and impacts the general well-being of others."